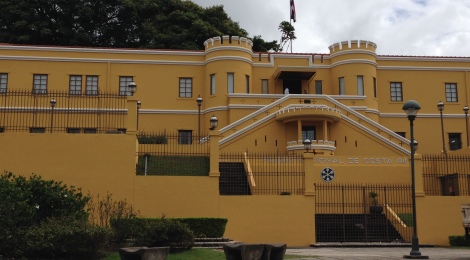 catching up
I'm far behind with my postings! While the body travels through space in real time, the soul seems to travel much slower and has a hard time catching up – as is the case with my postings.
So I will try my best to catch up. After the very special day in Nicaragua, I spent another week in Popoyo. Some of the days I spent recovering from an upset stomach, but after I was good again, I got to surf some amazing waves. I actually managed my steepest drop into a wave ever – what a feeling!!! Unfortunately I discovered the friendly beach break a couple of days too late to get down more good surfing but knowing that I'm traveling always close to a beach, I'm confident I'll have more opportunities!
The ride back from Nicaragua to San Jose was fun – 5 of our hostel left together in a rental car and made our way back through Rivas, where we said goodbye to our French girl, and on to the border. Just when we arrived there, it started pouring down and we knew we were back in Costa Rica. We had to fit the four of us, our big bagpacks (mine was of course the biggest and heaviest – I really shouldn't have brought this much!!!), a surfboard and a guitar into a car that can best be described as a smartforfour with 4WD – luckily the drive to Liberia was only 1,5 hours. From Liberia one of the Spanish guys and I got on the bus to San Jose and arrived there after quite a long day of traveling.
The next morning I got up really early to catch a bus for a day trip to the Poas Volcano. I had to change busses in Alajuela and was there right in time, so when I asked, from where the next bus to Poas left, I waited patiently until it arrived. Unfortunately, as it turned out, the people that I had asked, didn't give me the correct answer and the correct bus had just left 5 minutes earlier to when I found out. So I found myself a really yummy breakfast (hazelnut cake) and got on the next bus back to San Jose, where I walked through the city back to the hostel. It's not a very impressive or beautiful city (like everybody had said before), but I was surprised to find out, that they have a Chinatown! It seems the Chinese are everywhere!!!
Unfortunately it's pretty impossible to upload pictures to this website without a computer, so I just uploaded a few impressions of San Jose – check them out here!