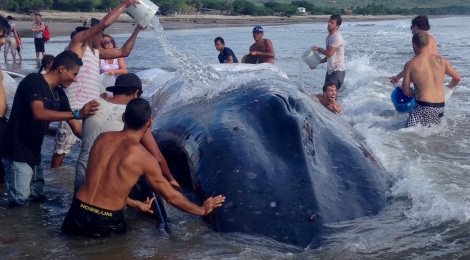 a special day
Yesterday was indeed a very special day. It started off like any other day here – waking up early, checking the waves and heading out for a short morning surf (more exactly battling through the white water and trying to catch at least one decent wave). Afterwards heading to the Italian place down the road to use their wifi, then taking a nap at the hostel to recharge. The heat here is pretty strong and I could sleep the whole day.
But just when I woke up the day changed from any regular day to a very special one. One of the guys staying at the hostel came into our room and told us about a big whale being washed ashore. Sarah, the Canadian girl I've been traveling with, and I got a ride with another guy from the hostel and drove down to the beach where the whale was lying. It was a sad sight to see such a huge being helplessly lying there, being pushed towards shore by every crushing wave. One could see the whale's dorset fin flap when a wave came crushing again, and a lot of people were trying to keep her in the water, pushing against the incoming tide and giving their best. At some point Sarah and I also went into the water and tried to help keep her afloat in the water. It was a lost battle however, as she hadn't blown air for a long time, but still we wanted to try and not give up hope yet. It was awing to be so close to such a huge creature, have one of her side fins in my arms, touch her skin and feel her massive body rock with every wave rolling in. The sun went down, the sky turned dark and at some point somebody checked her eye reflexes – only to declare her dead afterwards. It was a sad moment to let go of such an amazing creature, to realize that mankind has invented ingenious machinery, but is still hopelessly powerless in a situation like this.
Sodding wet and sad we got our ride back to the hostel where Micheal, a local was preparing dinner for everybody. It was tasty – a huge fish grilled with pineapples, peppers and onions. However, the highlight of the day was when one of our hosts came up to me and told me to follow h to the beach. He seated me on a trunk and pointed out into the dark sand in front if me. There was a turtle nesting right in front of our hostel!!! She had dragged herself up the whole way to the dry sand and was digging a whole, then working hard for quite some time to lay her eggs. It was amazing to be witness to such a special event. We kept a close eye on her to make sure the locals patrolling the beach to steal turtle eggs would not steal hers too. So when she was finally done with laying her eggs, she stomped the ground really hard to cover up her eggs and then started to head back out into the sea, but not after crawling towards me and starting at me for some time, almost like she was making me promise to protect her eggs. A promise I gladly made. So we covered up her tracks after she had slipped back into the ocean and made sure nobody would find her eggs.
At the end of this very special day I felt life had found balance again.